If you've ever tried to wean a toddler who wasn't ready to stop breastfeeding on their own, you know how difficult it can be. But one of the best tips is to read your child books about weaning.
The problem is, there's not many books out there about weaning or night weaning. But don't worry, I've made a list here that shows the best books for teaching your child all about life without the na-nas (or milkies, or nursies, or whatever you call them).
Plus, I've got weaning books (both for night weaning and for complete weaning) that you can personalize with your child's name and pictures.
How books help toddlers wean
Your toddler doesn't have the experience that you do. It may have never crossed his or her mind that, one day, there will be life without the na-nas. And as they say, "You don't know what you don't know."
Therefore, you need a way to gently introduce the idea to your child that they can live without breastfeeding. Instead of suddenly trying to wean your child without any explanation of what is happening, it's much better to tell your child what will be happening. Books are a great way to introduce weaning to your child.
RELATED: How to wean your toddler – Gentle weaning tips
Books featuring children who are weaning show them that they can still have a close, cuddly relationship with mommy, even if breastfeeding is off the table. In addition, the idea of becoming a "big kid" is usually emphasized, so it makes weaning sound more enticing for them.
Personalized toddler weaning books
One of the most important parts of changing a habit is changing how you view yourself. For example, if you want to get fit, you may start by exercising every day. But to stay on that path, eventually, you need to view yourself as a person who exercises regularly (as opposed to someone who is just exercising right now).
It's the same for your child: One of the most helpful ways to lead them towards weaning is to talk about them as if they've already weaned. When they view themselves as a big kid, they're more likely to follow through with less fuss.
For my older two daughters, I used a small photo album to create a "Weaning book" for them. I used it to help them night wean, and later on, I used it to help them wean completely.
RELATED: How to night wean your toddler in a week
My girls loved reading these books with me at night. They loved seeing pictures of themselves as babies, and they loved being the hero of their own story.
We read their weaning book every night for weeks, both before weaning and during the process.
These books are precious to me. They are a sweet keepsake to look back on even years later.
They were also a lot of work to make.
My third child weaned on his own around 2.5 years, so I didn't need to make him a weaning book. But I still wanted one for him! I love having all the sweet pictures of my kids growing from newborn to toddler, and I wanted him to have a story about himself.
Since I knew I'd also need to one day make a weaning book for my youngest child, I decided to make a weaning book template.
It's easy to personalize this weaning book for your own child. You just add pictures of him or her, insert his/her name, and add the word of your choice for breastfeeding.
Check out the Weaning Book Template
Check out the Night Weaning Book Template
I promise, your child will be delighted to have a book all about them. Plus, it's a great tool for weaning in a way that's gentle and respectful for both of you.
Disclosure: This article contains affiliate links. As an Amazon Associate I earn from qualifying purchases. You can read my full policy here.
(Note: This method won't work for babies. They simply aren't old enough to comprehend an explanation from a book).
Best weaning books for toddlers
There aren't very many books out there about weaning. But don't worry, I've checked out what's available and chosen the best ones.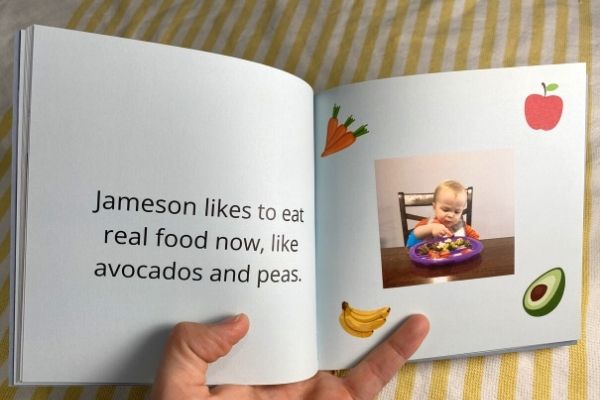 Once you add your child's name and pictures, you'll have a one-of-a-kind weaning book for your child. This book tells your child's story: How he/she started as a brand new baby who got na-na (or whatever you call breastfeeding – you decide). It shows your baby growing into a toddler and explains that they don't need na-na anymore. The book ends by telling them, "Congratulations, you are a big kid now."
A Big Change for Seb is a sweet new-comer in the weaning book world. It follows Seb through a gentle but parent-led weaning. The short introduction also gives parents the gentle weaning tips that the author Emily wishes she'd had when she was weaning her oldest.
Loving Comfort: A Toddler Weaning Story
Loving Comfort is a classic weaning book. With its sweet illustrations, it reassures your child that mommy will always be there (even when they're done nursing).
A Time to Wean is another well-loved weaning book. It shows how many animals start out drinking mother's milk, but as they grow, they find other things they enjoy. It ends by showing a child who has grown out of breastfeeding but still loves cuddling with Mommy.
I'll be honest: Mama's Milk Is All Gone isn't the prettiest book out there. But, it is in first person from the toddler's perspective, so your toddler will connect to this child who grows from newborn to older toddler throughout the story.
My Milk Will Go, Our Love Will Grow
This weaning book is written by a social worker who specializes in child development, so it's written specifically for toddlers by someone who understands them. In it, a mother answers her child's questions about weaning.
Best night weaning books for toddlers
If you're not ready to stop breastfeeding completely, but instead just want to night wean so you can start sleeping again (understandable!), these books will be more appropriate for your needs.
Personalized Night Weaning Book
With this book, you can add pictures of your little one to make them the hero of their night-weaning adventure. It's perfect for giving your child a sense of control during the process of learning to sleep through the night.
Nursies When the Sun Shines is a classic night weaning book. Its sweet, sleepy pictures and soothing rhythm help your child settle in for bedtime.
The book follows a toddler through the night. He is told that he will get "nursies" in the morning when the sun comes up, and he is gently reminded when he wakes up in the middle of the night asking to breastfeed. In the morning, everyone cuddles as he gets to nurse.
Sally Weans from Night Nursing
Sally Weans from Night Nursing is written by a licensed who understands the importance of empathizing with and validating a child's feelings. This story follows Sally as she learns to sleep through the night. The author wrote it for her own daughter, and said she encouraged night weaning by telling her, "Remember, we're going to sleep all night like Sally did."
Conclusions on using books for toddler weaning
Reading to your child about weaning is a great way to prepare for the process. You may want to start reading a few weeks ahead of time, and then do a simple countdown with your child before you start ("Remember, we will get na-na tonight, and then we will get na-na tomorrow, and the day after that we will be all done with na-na.")
The more you inform your toddler of what's going on, the greater sense of control they'll have and the better they'll handle weaning. I hope one of these books resonated with you. Make sure to comment below if you have any questions.